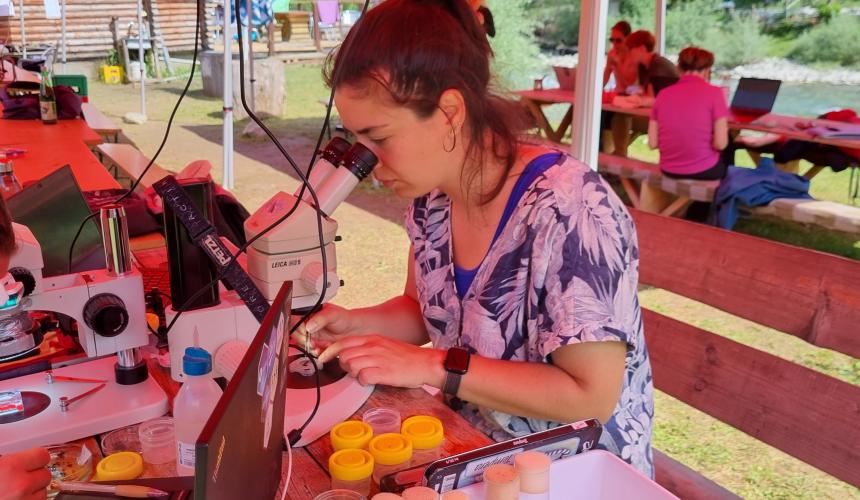 Neretva Science Week 2023 took place from May 30th to June 7th. A diverse team of 70 scientists from 17 countries gathered in small town Ulog, to contribute to the conservation of the Neretva river system. They were accompanied by journalists, photographers, activists, and artists. Various independent teams explored different areas on and around the river, to get a deeper understanding of specific habitats, point to threatened places and integrate across terrestrial and aquatic habitats.
Specialists for terrestrial fauna and flora focused on the exceptionally diverse primary forest ecosystems, ranging from dry oak on North-Eastern slopes to more moist beech on South-Western slopes via astounding alder riparian forest along the river. Specialists for fish and aquatic invertebrates explored some of the remote and not yet researched tributaries, that are threatened to be dammed in the future, including Ljuta, Jezernica and Mededak rivers. One day most of the team moved to Nevesinjsko polje, to explore a hidden tributary to Neretva, Zalomka River. After 'disappearing' in the Biograd ponor, one of the largest sinkholes of the Dinaric region, the water of the Zalomka River reappears in karstic springs forming the Buna and the Bunica rivers, both tributaries of the Neretva River. An absurd hydropower project is on its way, capturing this water at the sinkhole, flooding Nevesinjsko polje, reducing the Buna and Bunica springs to an unknown minimal flow, and drying up unknown underground ecosystems.
Scientists studied over 15 groups of animals and plants. They explored fish, aquatic macroinvertebrates, birds, amphibians, reptiles, large mammals, bats, subterranean fauna, soil invertebrates, dragonflies, spiders, aquatic beetles, moths, butterflies, grasshoppers and crickets. We also had a strong team of botanists, dendrochronologists and specialists for mosses and fungi. Finally, a socio-cultural team studied the social values of the Neretva, what the river means to locals and also to scientists: they explored the motivation and drivers behind our conservation efforts.