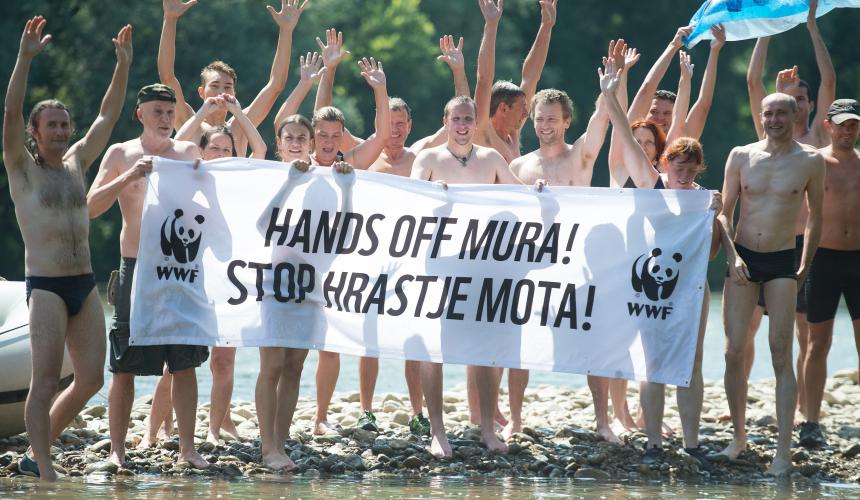 ++ Slovenian Andreja Slameršek receives the Wolfgang Staab Prize for Nature Conservation of the Schweisfurth Foundation ++
The fact that Slovenia's two major rivers, the Mura and the Sava, can still flow mostly unhindered through their riverbeds is largely thanks to the conservationist Andreja Slameršek. With the support of NGOs, she succeeded in stopping several planned hydropower projects that would have destroyed the unique, ecologically valuable floodplain landscapes of the two rivers. Today biologist Slameršek was awarded the Wolfgang Staab Nature Conservation Prize 2021 for her outstanding commitment to nature of European value. This prize is awarded annually and is endowed with 20,000 Euros – financed by the Wolfgang Staab Nature Conservation Fund of the Schweisfurth Foundation.
"Without the tireless, expert efforts of Andreja Slameršek, the planned power plants on the Mura and Sava rivers would have probably already been approved. Andreja is a fighter who contributes significantly to preserving valuable river landscapes. She is an important role model for all those who stand up for nature, despite some fierce attacks from authorities and government circles. We need more 'Davids' like Andreja in the fight against the Goliaths," says laudator Ulrich Eichelmann, CEO of Riverwatch, at the award ceremony in Munich.
According to the plans of the energy industry, a total of eight hydropower plants were to be built on the Mura River in Slovenia, damming more than 50 kilometers of the river. The Sava River is to be transformed into a cascade of reservoirs over large stretches. Andreja Slameršek, president of the Slovenian Native Fish Society (DPRS), wrote and coordinated, largely on a voluntary basis, the submissions and complaints of several nature conservation organizations in all relevant approval processes for the construction of the hydropower plants. She connected local residents and various political and cultural groups, organized round tables, film evenings, exhibitions and media campaigns.
With success: since 2019, the use of the Mura River for energy has been excluded from Slovenia's national energy and climate plan. Also in 2019, the Slovenian Administrative Court stopped the construction of the planned Mokrice hydropower plant on the Sava River due to formal and content-related deficiencies; this summer, the Supreme Court confirmed this decision. The Sava River and its unique fish fauna are protected for the time being.
Healthy floodplains are like lifelines of our landscape. They are home to a fascinating biodiversity, serve as natural flood retention and absorb climate-damaging greenhouse gases. However, due to structural interference such as river regulation, diking and bank reinforcement, the construction of hydropower plants and the expansion of settlement and industrial areas, riverine floodplains are now the most endangered habitat in Europe.
"Andreja Slameršek has succeeded in communicating the high importance of river protection to a broad public and has successfully put the issue on the political agenda. By awarding the Wolfgang Staab Nature Conservation Prize 2021, we would like to support her in her important work and honor her outstanding commitment," says the jury, consisting of Dr. Dorette Staab (founder), Prof. Dr. Emil Dister (former Karlsruhe Institute of Technology/Floodplain Institute), Andreas Krug (Federal Agency for Nature Conservation) and Dr. Niels Kohlschütter (Schweisfurth Foundation), explaining their decision.
Mura and Sava - two important rivers for Slovenia and Europe
The Mura River in Slovenia is part of a river landscape of European significance – the "Amazon of Europe" – encompassing the Mura, Drava and Danube river systems and stretching across Austria, Slovenia, Croatia, Hungary and Serbia. The Slovenian Mura and its floodplains host the largest floodplain forests in Slovenia, as well as an unusual diversity of fish species, with over 60 species. Furthermore, the area is home to several endangered animal species, such as kingfisher, black stork, white-tailed eagle, beaver, otter and many more. Slovenia's Mura floodplains are protected as a Natura 2000 site and were recognized as a biosphere park by UNESCO in 2019.
The Sava River is Slovenia's largest river. It is partially protected as a Natura 2000 site and is of great ecological importance mainly due to its fish fauna. The Sava is famous for its Huchen population. The Huchen is related to trout and can grow up to 1.5 meters in length. wide-spread across the entire Danube basin, this "tiger of rivers" is now considered globally endangered, mainly due to hydropower development.
About Andreja Slameršek
Andreja Slameršek was born in 1980 in Ptuj in northeastern Slovenia. She studied chemistry and biology and started working at the Slovenian Institute for Nature Conservation after graduation. From 2016 to 2020, she was the managing director of Nature Conservation Consulting, which she founded, and has been the honorary president of the Slovenian Native Fish Society (DPRS) since 2015.
About the Wolfgang Staab Nature Conservation Award
The Wolfgang Staab Nature Conservation Prize is sponsored with funds from the Wolfgang Staab Nature Conservation Fund of the Schweisfurth Foundation. In order to preserve and restore the natural state of rivers and floodplains, the prize, endowed with 20,000 Euros, is awarded annually for special achievements in favor of sustainable development of river and floodplain landscapes. Applications or nominations for the award in 2022 can be submitted until the end of February. More information
Wolfgang Staab (1938-2004) made a name for himself as a passionate environmentalist in Rhineland-Palatinate. As chairman of the Rhineland-Palatinate branch of BUND, he worked very successfully for many years; later he served as treasurer in the BUND national association. In 2014, Dr. Dorette Staab established the Wolfgang Staab Nature Conservation Fund within the Schweisfurth Foundation.
About the Schweisfurth Foundation
In line with the mission statement "Managing with Respect for and Joy of Living Things", the Schweisfurth Foundation is committed to sustainable agriculture and food management. The focus is on the following topics: Species-appropriate animal husbandry, food sovereignty, environmental protection, social innovations for good urban-rural relations and ethical principles underlying ecological action. The Schweisfurth Foundation sees itself as a bridge builder between scientists and practitioners. It acts as an impulse generator, advisor and process facilitator for business, politics, administration and associations and actively shapes processes of socially innovative work together with collaboration partners.