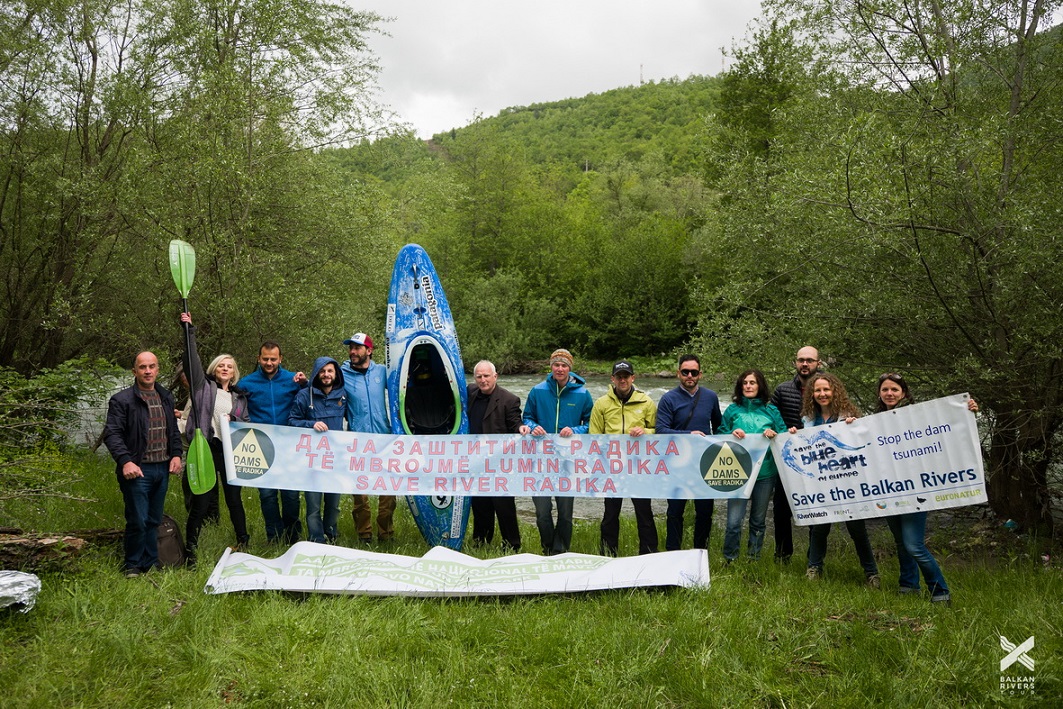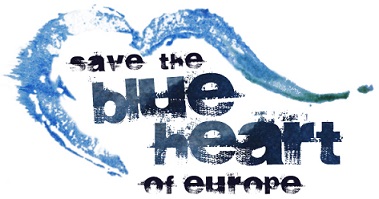 Joint press release by Riverwatch, EuroNatur Front 21/42, Macedonian Ecological Society and Eco-sense
++ Day 19 of the Balkan Rivers Tour: protest action against dam construction inside Mavrovo National Park ++ Hydropower projects endanger the last Balkan lynxes ++
Mavrovo, Vienna, Radolfzell, May 6, 2016. On Wednesday, an international alliance of kayakers, anglers, residents and nature conservationists protested against the construction of hydropower plants inside Mavrovo National Park. Not only is Mavrovo one of Europe's oldest national parks, but also a treasury of European biodiversity.
The protest action was part of the Balkan Rivers Tour directed against the dame craze in the Balkans, which is threatening to destroy the last free flowing rivers of our continent. Inside Mavrovo National Park alone, two big and several smaller hydropower plants are projected to be built. "Hydropower plants stands in stark contrast to the protection of biodiversity and have no place in protected areas such as the Mavrovo National Park!", says Theresa Schiller, coordinator of the "Save the Blue Heart of Europe" campaign at EuroNatur Foundation.
This assessment receives top-level support: in December 2015, the Bern Convention (one of the most important nature conversation conventions in Europe) called upon the Macedonian government to stop all construction projects inside Mavrovo National Park and conduct a comprehensive environmental assessment. The recommendations were also directed at the international financiers of the hydropower projects, most notably the World Bank and the European Bank for Reconstruction and Development (EBRD). As a consequence, the World Bank has dropped its funding of one of the two projected big hydropower plants. The project "Boskov Most", funded by the EBRD is, however, still in the pipeline and as such a ticking time bomb. The provided funds were merely frozen for the time being.
In their report, the independent expert group commissioned by the Bern Convention had explicitly pointed out that "Boskov Most" constitutes a serious threat for the survival of the Balkan lynx. Due to the required infrastructure (roads, power lines, pipelines, etc.), the species' habitat would be destroyed. "Mavrovo is the  reproductive centre of this critically endangered subspecies of the Eurasian lynx", confirms Daniela Javanovska of the Macedonian Ecological Society (MES). "The message of the Bern Convention's committee to the Macedonian government and everyone involved in this egregious  project could not be any clearer: protected areas are protected for a reason", says Vesna Ilievska Utevska of the Macedonian environmental NGO Eco-sense.
However, the Macedonian government appears unimpressed. "The implementation of small hydropower projects is proceeding unimpeded", so Aleksandra Bujaroska of the Macedonian NGO Front 21/42. "We urgently call upon the Macedonian government and banks involved to take the Bern Convention's recommendations seriously and immediately stop all hydropower projects inside the Mavrovo National Park", says Theresa Schiller from EuroNatur.
"Intact rivers are essential not only for fauna but also for humans. The Balkans' pristine river landscapes have the potential to boost sustainable socio-economic development, even so in Mavrovo National Park. It does necessitate however that the rivers remain unharmed! Anglers, kayakers, nature conservationists – we all must join forces to prevent the dam craze here and on the entire Balkan Peninsula", so Rok Rozman, organiser of the Balkan Rivers Tour.
  Background information
Contacts
Katharina Grund (EuroNatur), katharina.grund@euronatur.org, +49 7732 9272 10
Cornelia Wieser (Riverwatch), cornelia.wieser@riverwatch.eu, +43 650 4544784
Aleksandra Bujaroska (Front 21/42), aleksandra.bujaroska@front.org.mk, +38978433713
Rok Rozman (Leeway Collective), rok@leeway-collective.org, +386 51 421 303